How does a project progress?
Design isn't magic but it does require a designer with a tremendous level of style; with attention to detail; with people skills and one whom is able to see something that doesn't exist.
Let's look at a project – Koroseal Wallcoverings showroom in the D and D Building, New York, NY
1. Having visited the space and received a list of functional requirements from the client, the designer lays out a Floor Plan.

2. After adjustments to make sure that the layout will work not just in the moment but will function well over time, 3 dimensional sketches are prepared to communicate design intent.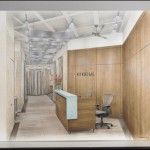 3. Construction drawings are prepared for pricing, permits, Landlord approval and finally, actual building.
4. Budget approved, permits obtained, Landlord's approval given, construction begins.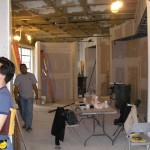 5. The point of the showroom is to communicate the Koroseal brand to interior designers.
a. The entrance must be welcoming.
b. The interior display many wallcoverings and draperies.
c. Samples of product must be neatly stored for easy access.
d. Sales manager and staff must have space to work.
e. Support space needed for lunch, catering and office tasks.
6. A grand opening party is scheduled.